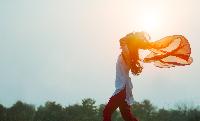 UPDATE ON ANGEL HOUSE – May 16, 2018
Angel House began preparing for its first resident in January, 2018. The parsonage of the First Baptist Church was gifted for five years and due to the generosity of the entire Jamestown community, the entire house has been furnished and was made ready to accept its first resident. Several churches have supported Angel House with donations of cleaning supplies, toiletries and other items.
Three ladies have volunteered to be house mothers on full time and part-time bases. We received our first inmate in March, but due to severe emotional needs she was referred to a more suitable house. The first actual resident was paroled to Angel House on April 4th and our second resident came on April 5th. We currently have two girls in residence.
The progress made by the Lord in these girls' lives is remarkable. Although we have had several issues including health emergencies and surgery, they have grown in their relationship with the Lord and have begun to set realistic goals for themselves.
We would like to thank New Ground Ministries for helping to make Angel House a reality and for its continued support.
Sincerely
Susan Sutherland